Kochi Yosakoi Festival WWW Home Page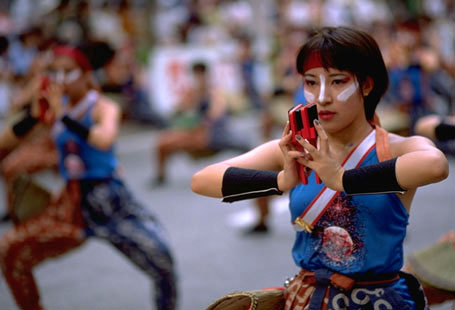 Matsuri Kaisha
Copyright © 1997,
Tadashi Mori
. All Rights Reserved.
---
This WWW page provides information about the Kochi Yosakoi Festival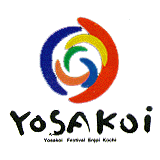 About Yosakoi Festival
Yosakoi Festival is held for four days from Aug.9 to Aug.12 every year in Kochi. People dance passionately to the Yosakoi music in Otesuji street, Central Park, Masugata and Obiya-machi with Naruko(Clappers) in their hands. It's like a Carnival!
Costumes worn at Yosakoi Festival vary from traditional Happi and Kimono to modern ones. Also modern music like Rock n' Roll and Samba have become popular now, although years ago traditional music was played.
Please come here and join us!

---
The 44th Yosakoi Festival,1997
A large amount of rain fell this summer in Kochi and just before the festival period a Typhoon approached the area. So the fireworks display had to be postponed from Aug. 9 to Aug.12 The Internet staff's early enthusiasm was dampened too. But luckily the festival-eve show was held according to plan as the heavy rain stopped just before the start of the show.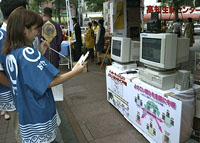 Contary to the forecast little rain fell on Aug.10 and Aug.11 making the southern festival city feel even hotter. The staff members were busy working, coming and going between NTT Kochi and RKC. Also the multi-point live session with Phoenix TV conferencing system, the "Hokago-Club" (which was used for the first time) and the i-BOX from JCC was used as an information kiosk and many staff worked hard.
And two teams made vivid live reports of the festival using TransCam via a cellular phone system from NTT DoCoMo while walking around the city.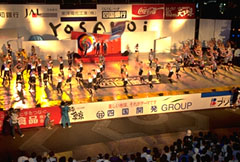 The post festival show was held on Aug.12. The weather was not so good and some rain fall, but luckily it stopped raining when the show begun. But due to the bad weather some of fireworks didn't go off correctly. The Internet live team climbed up on the roof of the NTT Kochi building and broadcast images of fireworks and run a lively commentary describing the display.

While other staff worked very hard, I went to Otesuji street and Central park to take photographs. Several of them are shown here. Enjoy!

Scenes from the 44th Yosakoi Festival in 1997
---
---
---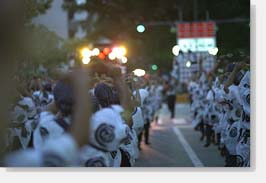 ---

Return to T/Mori Internet Project Page
---
---


Copyright © 1995,1996,1997,1998,Tadashi Mori. All Rights Reserved. Tadashi Mori Access Counter: