The 47th Yosakoi Festival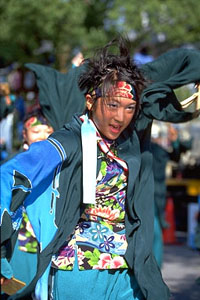 This year I went to Kochi on Aug. 9 when the festival eve show was held. Asahi Shokuhin won Grand prix and Central Group won Semi-grand prix. The show was very high level. I felt this summer is really a summer with the hot southern sun that was supporting the festival. But dancers seem to be hard.
I took photographs on Aug. 10 and Aug. 11 at Otesuji street. 145 teams, 16,500 people participated into the festival. We make live broadvast of the festival via the Internet with RKC Kochi Broadcasting from 2:00pm to 5:30pm each day.
The final day, the post festival show was held, was fine but people was waiting at Chuo Park before the show. 17 awarded teams and 18 teams from outside of Kochi parformed. A rainbow appeared while Kochi Daimaru Team was dancing and it was very impressive.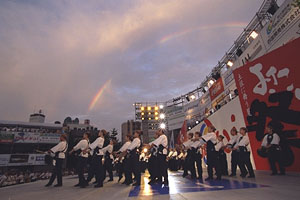 The 47th Yosakoi Festival Schedule
Aug. 9, Wed., 18:30 - 22:00
Festival Eve Show at Chuo Park
Aug. 10, Thu., 12:30 - 21:30
Main Festival
Aug. 11, Fri., 12:30 - 21:30
Main Festival
Aug. 12, Sat., 16:30 - 22:00
Post Festival Show at Chuo Park
All Japan Show at Chuo Park, Otesuji and Obiyamachi
---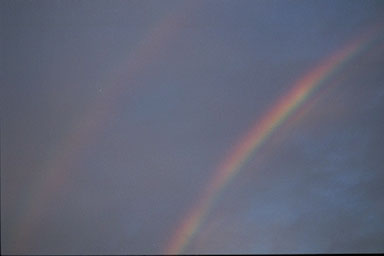 The brightest one is primary rainbow, the darker left is secondary rainbow while you see interferencing rainbow just inside of the primary rainbow. The rainbow itself was interesting.
---
---
Copyright © 2000, Tadashi Mori. All Rights Reserved.